Hey! I hope everyone is enjoying their week so far. My one is quite alright, am enjoying the sunshine and the cool weather here in London. Despite it hasn't snowed this year, in the UK which is pretty strange. But yet again you cant predict British weather. Sometimes I cant keep up it was all hot then all of a sudden it just started raining :/ What about you guys, is it snowing in your country or are you experiencing the lovely weather?
Enough about weathers! I thought that I would take a break from Photography this week, and just talk to you guys. So you can see from the title, I will be telling you my top 5 TV shows that I am loving at the moment! I don't know why, but am absolutely obsessed with US TV shows at the moment as you will see :)
Do tell me if you watch any of these and if you have any recommendations :)
This is my favorite show EVER! I cant believe its been 4 seasons already,AMAZING or WHAT! And features some of my favorite actresses such as Lucy Hale,

Ashley Benson.

As you can tell its a US TV show. A short summary,

Pretty Little Liars follows four best friends who are reunited one year after their best friend, Alison, goes missing only to discover they are receiving messages from an anonymous 'A' who knows all their secrets. I would 100% recommend that you watch it as every episode you watch only makes you want to watch the next on and never fails to make you think about who '-A' is!
2. The Originals
I am a huge fan of this show! I was recommend by my friends, who kept bugging me to watch this show. As its an US TV show, it airs in America on Tuesdays but I have to watch it with Pretty Little Liars on Wednesday due to time differences :( Besides that I have to give my friends credit as they were right as this show is absolutely amazing!

The Originals

is

a

spin-off

of The Vampire Diaries

series. So if you

that

you'll

love this! Vampires, Werewolves, Witches and ACTION above all then this is the show for you! And its not to late

because

it is only on season.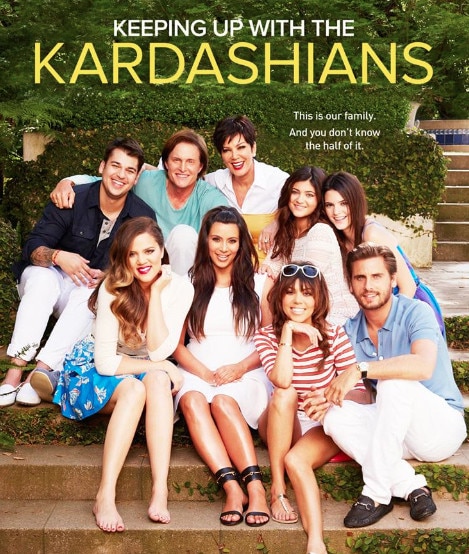 3.Keeping Up With The Kardashians
I love a bit of reality TV! I really enjoy watching it on Sundays as it comes on E! at 22:00 UK time.

It is yet

another, American reality

television series that has

aired

on E! since October 14,

2007. The series has aired

eight seasons, and focuses on

the personal and professional

lives of the Kardashian/Jenner

family. My

favorite

Kardashian

is Khloe, I love her humor it is so
hilarious *laughs*! My
favorite
Jenner
sister is Kendall, as I
adore her
style and her personality.
4.Two &
A Half Men & The Big Bang Theory


I also love abit of comedy! Who watches either of these shows? I love it never fails to make me laugh. I want to make an exception as these two are just amazing. I differently would recommend it, as these will never fail to give you the giggles :) Two And A Half Men is about

The Harper brothers Charlie and Alan are almost opposites but form a great team. They have little in common except their dislike for their mundane, maternally cold and domineering mother, Evelyn.

The Big Bang Theory is about

four young scientists who know all about the world of physics, and one girl, who gives the physics world a real spin. If you need a cheer up then these are the shows to watch :)
5.The Only Way Is Essex (TOWIE)
Finally! THE ONLY WAY IS ESSEX! This as you can see is the only British UK TV Show, that am really loving right now. Its a reality TV show based in Essex in London. I love it! I'm always laughing half of the time, with all the drama happening. There is always drama in ESSEX ;) A short summary, it is a reality TV series

hat follows the lives of several faces in the world of Essex. If you live in Britian or Ireland you can watch it at ITV2

Sundays

& Wednesdays at 22:00 :)